On Sunday,
Kelly
and I were antsy for some relief from the daily Daegu grind, so we decided to visit a temple to welcome the new spring weather and have some peaceful scenery out in the countryside. Since Kelly's apartment is a hop, skip, and jump from the Seobu bus terminal which has the bus to
Haeinsa
(Temple of Reflection on a Smooth Sea--ironically landlocked, of course) on Gaya Mountain, that's where we decided to go. It was very beautiful, and you should definitely go look at all the pictures in the album:
Some highlights from the trip: Turns out Haeinsa was a good choice for stress relief because it had one of those mazes for walking meditations. I actually had a whole spiritual revelation thingy when I walked it (not a major one, but enough that I feel much more centered now than I did last week). What a nice birthday treat!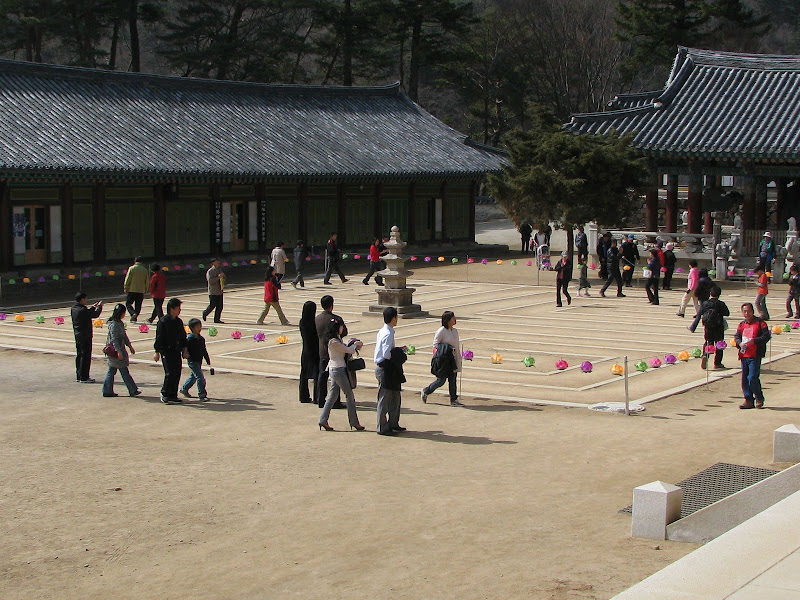 Meditations in a Maze
I'd been eager to visit Haeinsa for some time because it has one of the cooler sounding cultural treasures of Korea, the
80,000 Tripitaka Koreana
(in Korean, 고려 팔만 대장경). It's basically a Buddhist text that was carved on 80,000+ wood blocks in the 13th century. The planning and execution of this artwork took about 20 years, which is not that long when you imagine that if this thing was ever actually printed out and bound, it would be insanely long.
The interesting thing is that you can't actually touch the blocks, since they are in these preservation rooms. To even see them, you had to peek between the wood slats in the buildings, and sometimes chicken wire and other measures to prevent the curious from touching the blocks. It made good photography quite challenging, but I managed to catch a few good shots of the Tripitaka.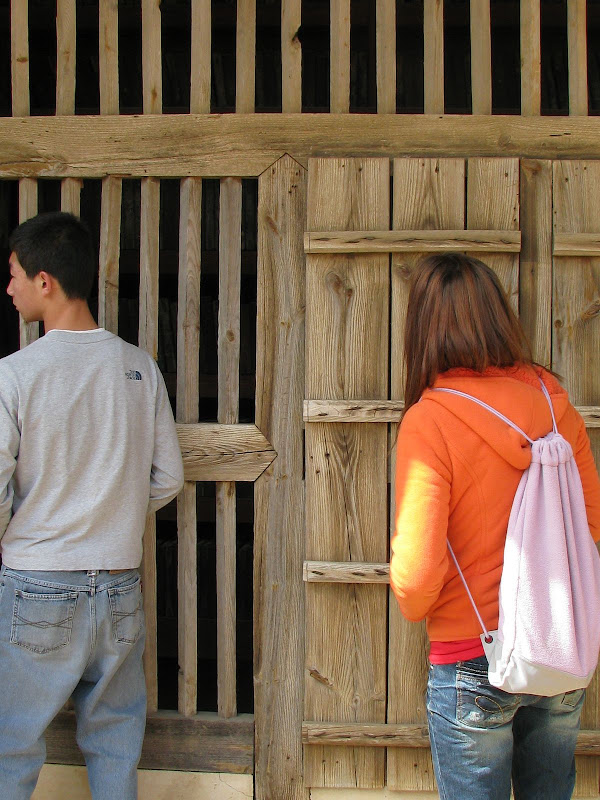 Kelly checks out the storage room for the wood blocks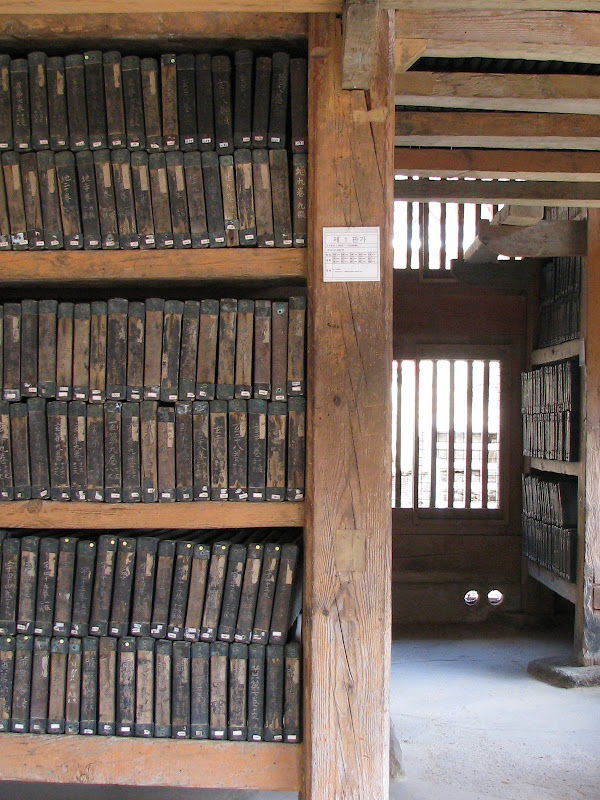 Filed, stored, sorted Tripitaka blocks
There were several colorful hermitages near the temple. We went to one that looked like the painting had been recently restored/retouched because it had some of the most vivid colors of any of the various Korean cultural sites I've visited.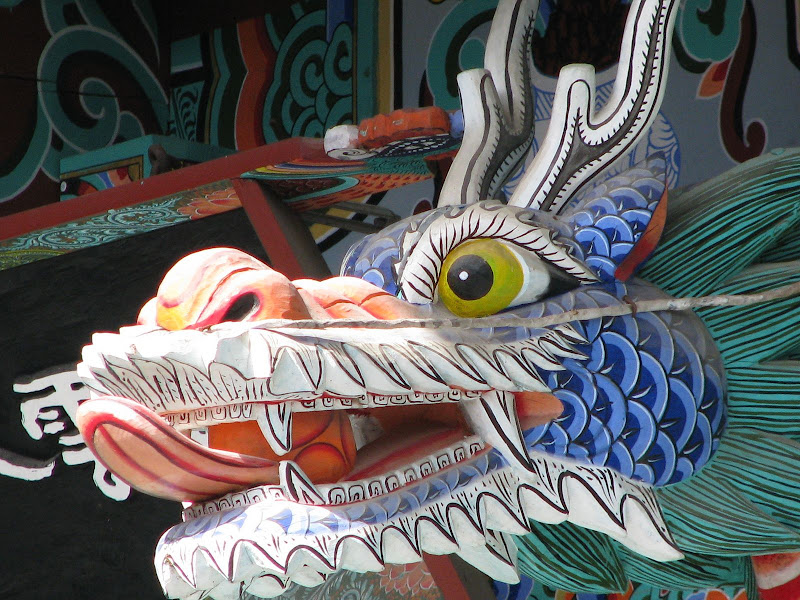 Dragon detail at Hong Je-An (a hermitage)
There's also a lot of sculptures and beautiful mountain streams and ponds surrounding the temple grounds that Kelly and I enjoyed photographing. The weather was so amazing that we started to get a little giddy towards the end. So of course, when we saw the super cool alien construction, we had a really strong urge to mess it up by rolling the balanced sphere off the top of the sculpture.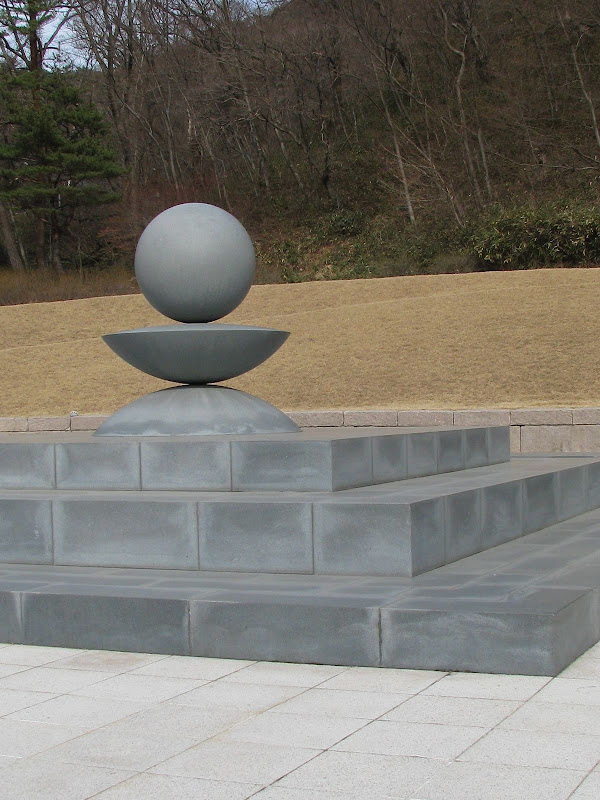 Really Cool Alien Construction
However, we didn't really want to get deported. At least, not today.
Afterwards, we were giddy, happy, and hungry. We went downtown to find a new restaurant and happened upon Piano, a kind of Italian inspired place. The decor was awesome, and we had the best valued in a restaurant bottle of wine I've had in Korea (meaning it tasted way better than the 23,000 won we paid for it), but the food was kinda mediocre. I don't know that I'd go back again, except that the waitstaff was friendly and attractive.
Then I finally found out where my makeup bag disappeared to about a month ago--apparently I left it in my friend Lenny's car, but I hadn't seen/heard from Lenny in a month. Awesome! I have my good makeup back! I'm so happy.