The biggest family holiday in Korea is 설날, Seolnal, or Lunar New Year. In America we pithily call this holiday "Chinese New Year" on our calendars because apparently everyone who celebrates it is Chinese (can you feel my eyes rolling?). Since the holiday marks the start of the lunar calendar year (this year is the Year of the Rat--have fun moms-to-be with your rat-like children), the solar calendar day varies but usually will fall sometime around the end of January. This year it was Thursday, February 7. We got off work the day before and after, so it was a nice long five day weekend.
Originally, I had wanted to take a trip out of the country to some tropical destination and make the most out of my holiday. My plan was flawed. Mostly because everyone and their mom seems to have had the same idea. You see, Koreans are a hardworking bunch and don't really take much time off, it seems, so the ones who like to travel all have to do so on the same five days as everybody else in the country. So all the flights were booked up months before for outrageous prices. I kind of gave up on the idea of leaving Korea at this time. I still was itching to do something really cool for the long holiday.
I have (you may have noticed) had several opportunities to improve my skiing while sojourning in the mountainous peninsula of Korea, so when I heard about a special ski trip through
Adventure Korea
, a tour company based in Seoul that caters to English-speaking foreigners, for the Lunar New Year, I thought,
That sounds fun
! My Canadian friend from Daegu,
Sarah
, and my Korean sister, Se Jin, came as well.
The trip began early Wednesday morning (Se Jin and I crashed Tuesday night in Sarah's love motel room near Seoul Station so we could catch the tour bus) when we left the city for
Phoenix Park
, one of the largest ski resorts in South Korea. The holiday traffic was so bad that we arrived much later than scheduled, but it worked out ok because we got night skiing passes instead of afternoon lift passes. While I did think the skiing at
High One
Resort was a little bit better, Phoenix had some challenging runs, powdery snow, and respectable heights.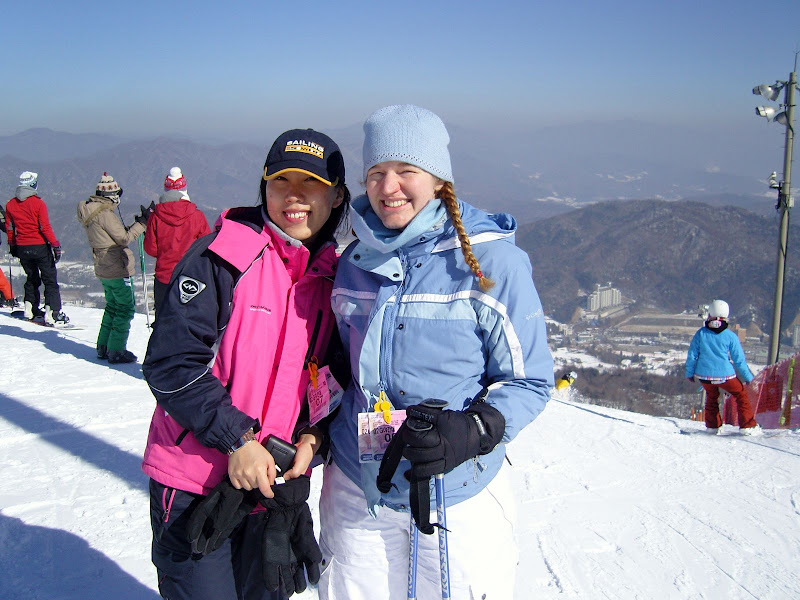 Se Jin and I at the top of Phoenix Park, ready to tackle the black diamonds! (Yoinked from her camera).
By the second day, I worked myself up to skiing advanced slopes. I'm gonna come back from Korea so "sporty" it scares me... The accommodations at the Youth Hostel were good (bunk beds, 8 to a room) and we met some girls from Seoul who we hung out with for most of the trip. I went to the Korean sauna (jjimjilbang) at the resort for about $5, which was awesome. We ate at a nice Korean/Chinese restaurant one night and ordered Dominoes pizza the other night (which was its own little adventure in speaking Korean because Se Jin was napping when I ordered).
On Friday, we packed up and moved out to a remote mountain hideaway in Gangwondo for the rest of the trip. The place was amazingly serene and made Se Jin ache for
Yeongcheon
(and... I have to admit... I also did, though for different reasons... by this point on the trip, having been surrounded only by other foreigners for days was making me edgy an withdrawn, but more on this in a bit).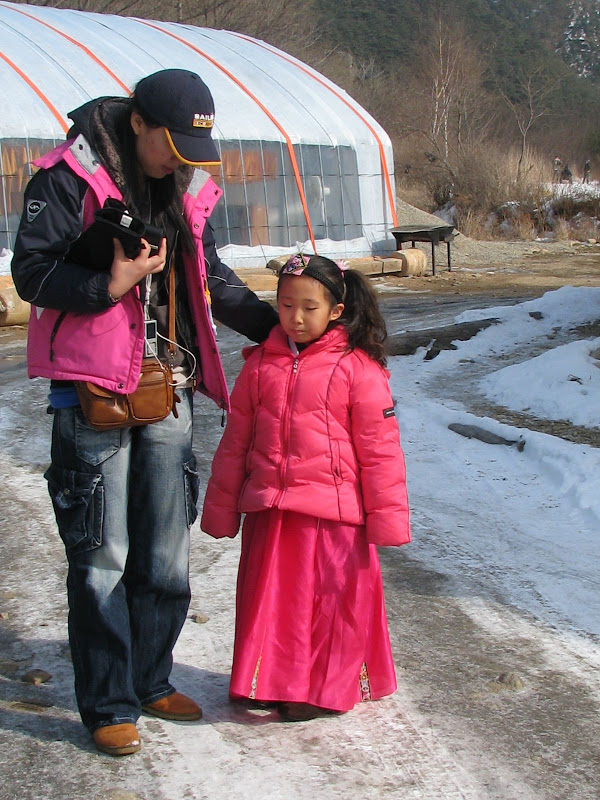 Se Jin makes a new friend.
This girl was the daughter of the owners of the mountain resort. She immediately latched onto Se Jin, one of the 5-6 Korean people on the trip besides the Adventure Korea staff. She seemed lonely. She was very confused when I spoke to her in botched Korean and referred to Se Jin as my elder sister.
That evening there was a yummy barbecue. There were also a lot of foreign people drinking soju. In retrospect, this was the most disappointing part of the trip. I had a great time at the noraebang in the resort where I was even serenaded with Paul Anka's "Diana" by the Korean staff. However, in one of the most awesome settings I've travelled to in Korea with snow and beautiful things, the partying and melodrama of the evening felt like a bad night in college. The juxtaposition floored me. I wanted to be very far away from all these foreign people who ignored the culture and the nature surrounding them, who spoke only English to each other, who talked about how "All Koreans this..." and "All Koreans that..." or about how much they drank or didn't drink last weekend and who they did or didn't go home with. I just didn't fucking care anymore, you know? This is why I stopped going to Dave's ESL Cafe... the attitudes of so many foreigners here suck.
Maybe it's just my introvertedness kicking in, but from that night, all I've wanted to do is curl up with a good book. And I have. I finished two in the last two days.
And this is why, though everything about my experience with the organization Adventure Korea has been positive, it is unlikely I'll be joining them for another round anytime soon. Actually, for newbies to Korea or folks here just a short time (a few months or weeks), they are a fantastic travel company with reasonable rates and lots of experience catering to foreigners. I just think it's not for me. Sorry, but I've had better experiences in Korea--nearly all of them when travelling or visiting with Koreans.
Or at least with foreigners who care about Korea. Foreigners who choose not to live in Seoul. There is something about the city...
But I digress.
After a horrible night of being kept awake first by drunken shenanigans and then by loud soju-induced snoring from a roommate, Se Jin, Sarah, and I woke up early for a trek along a frozen river. Definitely worth getting my shoes wet and nearly freezing to death!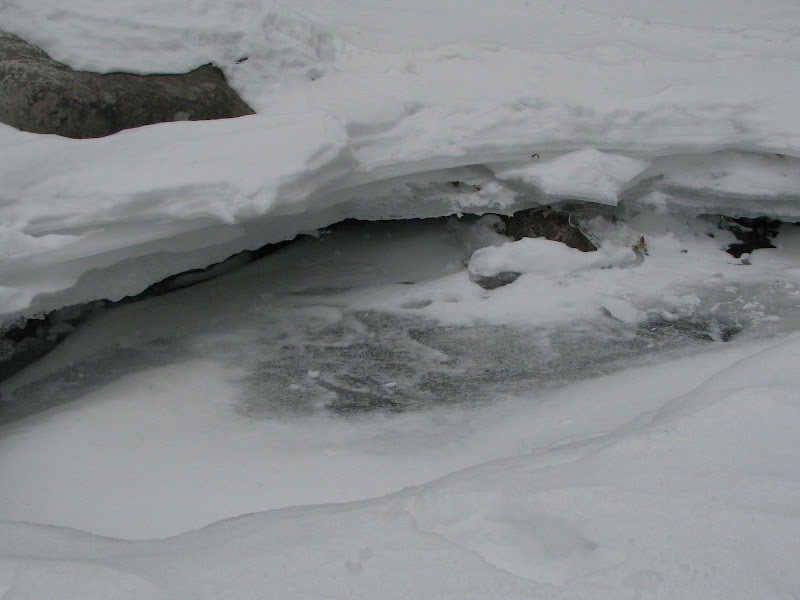 We had to avoid stepping on the thin ice and air pockets that broke through to the freezing water below. Some were not as lucky as I was and froze on the ride back to the resort...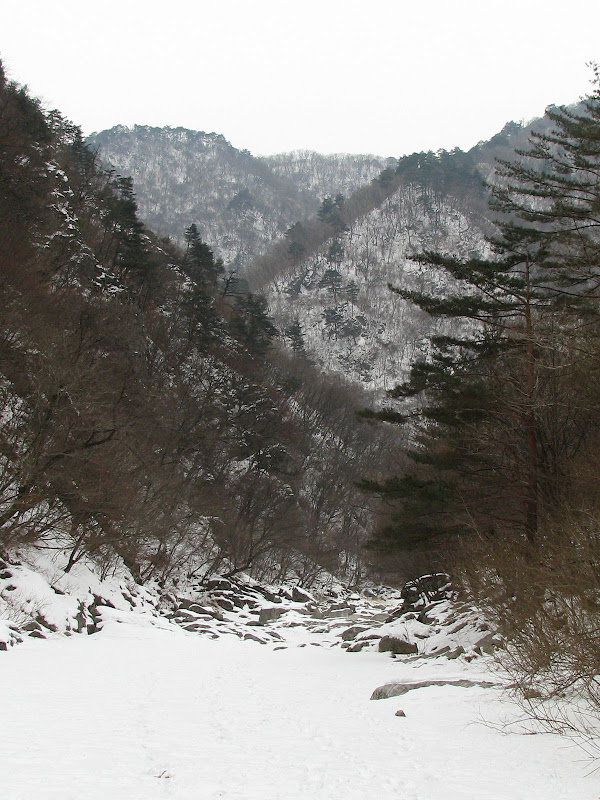 Hiking on a frozen river in a valley. Stunning.
After the hike and some tasty bibimbap, we piled back on the buses and returned to Seoul. Sarah, Se Jin, and I decided to stay the night once more in the city. Sarah was going to go shopping the next day with her new friend from Seoul and Se Jin and I would hit up some of the cultural sites. I'll blog about this tomorrow, because it deserves its own post.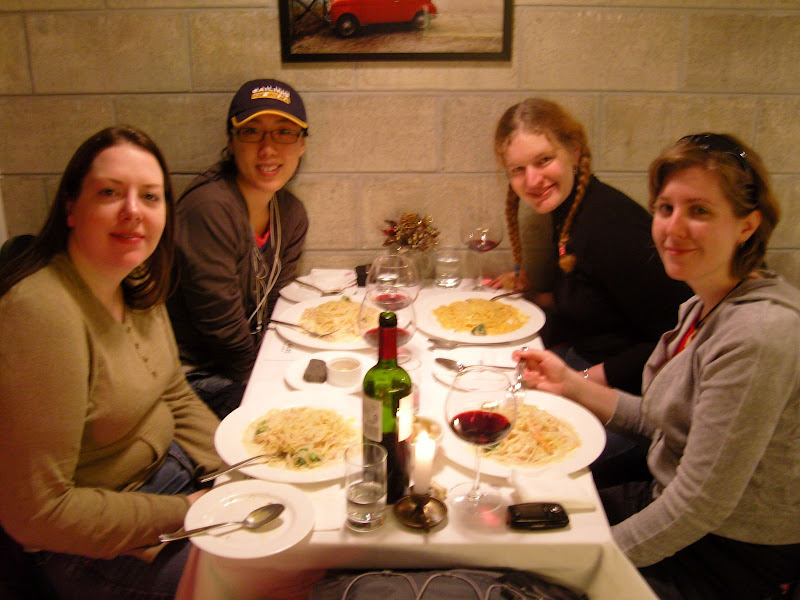 Celebrating our sore muscles at a fine Italian place in Hongdae. Don't we look snazzy for a night out in the big city?
All in all, some wonderful times and a lot to think about. How different my experience here could have been had I taken that job in Kangnam... I cuddled Princess this morning before heading to taekwondo and knew I'd made the right choice for myself. I am renewed in gratitude for the kindness of Gwen and Samson, of my Sa Beom Nim, of the YMCA teachers and students, and especially of the Kwons--my Korean family.
Se Jin says her father is picking a Korean name for me. I cannot wait to hear what it is.
Note that any pictures with me in them are provided by Se Jin and her camera. The others are mine from my nampyeon.