...with my new camera. I think I may marry it. (Didn't mean to give you a heart attack there, Mom, since you knew I went to Gyeongju with Se Hyun on whom I have an ever-growing crush, but really... I must declare the depth of my feelings... for my Canon Powershot).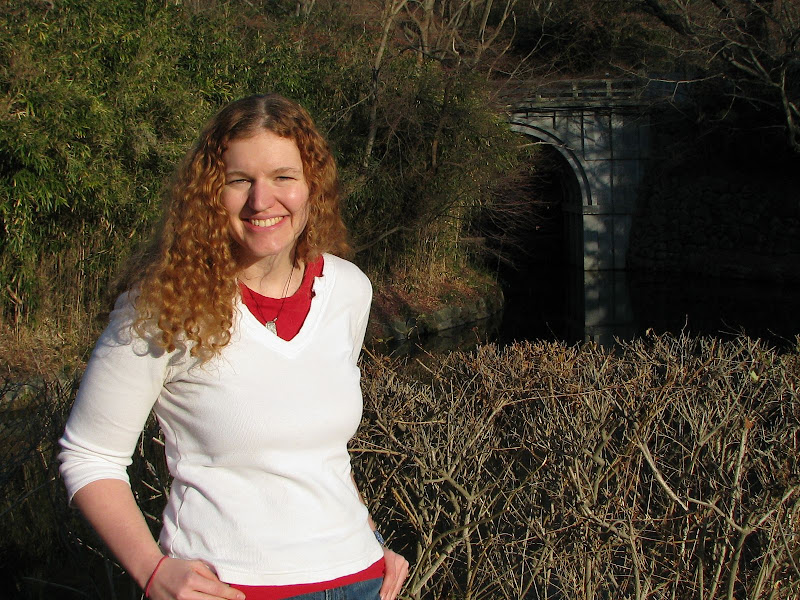 See how happy I am looking at my love (the camera... not the boy taking the photo, though he was cute, too!)?
No really, though, today was the best day I've had in Korea in a few weeks for so many reasons. It's been about a month since I've had a real good adventure or taken a bunch of pictures here and I was in desperate need of it. Today more than satiated my craving.
The day began with church. No really. Church. For some reason, Se Jin's been pestering me to go with her to her church for a couple months and since we were leaving right after the service today and Christmas is nigh upon us, I agreed to go. No, I didn't burst into flame. Yes, I was the first white person ever to attend the service. I sang the one Christmas carol I knew (in English, quietly, while everyone else sang the same song in Korean). Se Jin got me the dual language Bible so I could follow along. I used it as an exercise in listening/sight reading. And I got to see her parents, who I adore.
After the service, we went upstairs to the Sunday school/kitchen/art room to have lunch (which was delicious, of course) and talk. I met some of the congregation members, all of whom were exceedingly nice. The pastor is also a talented artist with wood carving (who knew?) and insisted that I make a rubbing from one of his carvings. It was actually really cool. He broke out the watercolors, and I painted it all pretty and then signed my name in Hangul and English. Then he asked if I wanted to write a special message on it. I thought that I'd send it to my parents for Christmas because I was sending home the package this week and they'd like to have it, so he wrote "부모님 사랑해요. 건강하세요.
I love you, parents. Please have good health.
"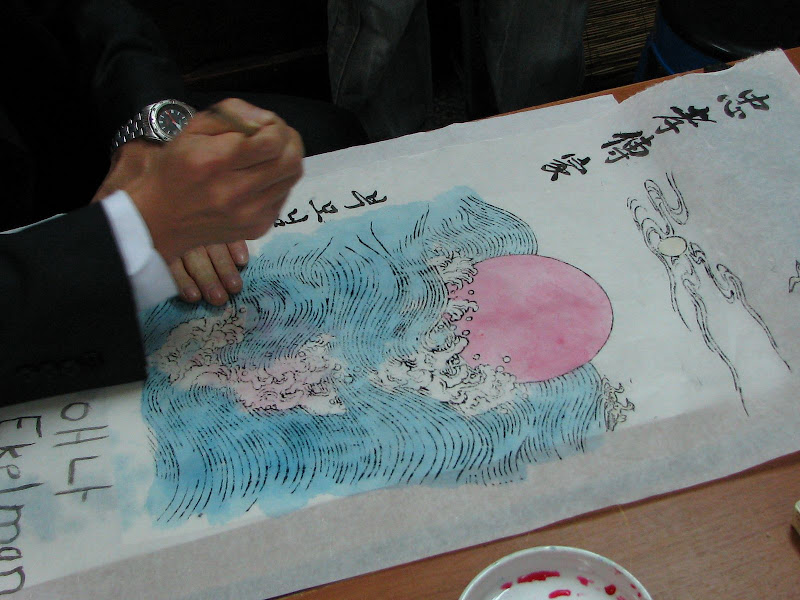 He even added Hanja (Chinese) characters to the piece.
When we finished at church, it was off to Gyeongju with my partners in crime, Se Jin and her brother Se Hyun. We went in Se Hyun's car (he's a very good driver) which was a considerably more stylish means of travel than my
last voyage to Gyeongju
with Samantha. The weather was perfect, the company rather silly, and my camera was itching to be tested for real. First we headed to Bulguksa, a beautiful and huge temple that
Jane
said was her favorite, so I knew I'd love it. I was right. I wish I could upload all the pics, but that would be insane. I insist you go look at my album though (link at the bottom) and you'll see why I'm going to marry my camera...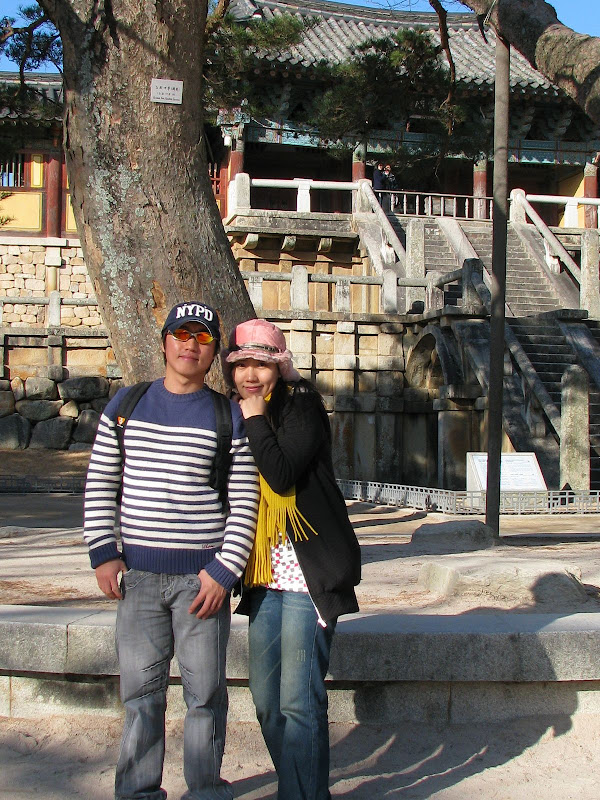 My companions--Se Hyun and Se Jin--delightfully entertaining, as always, in front of the temple entrance.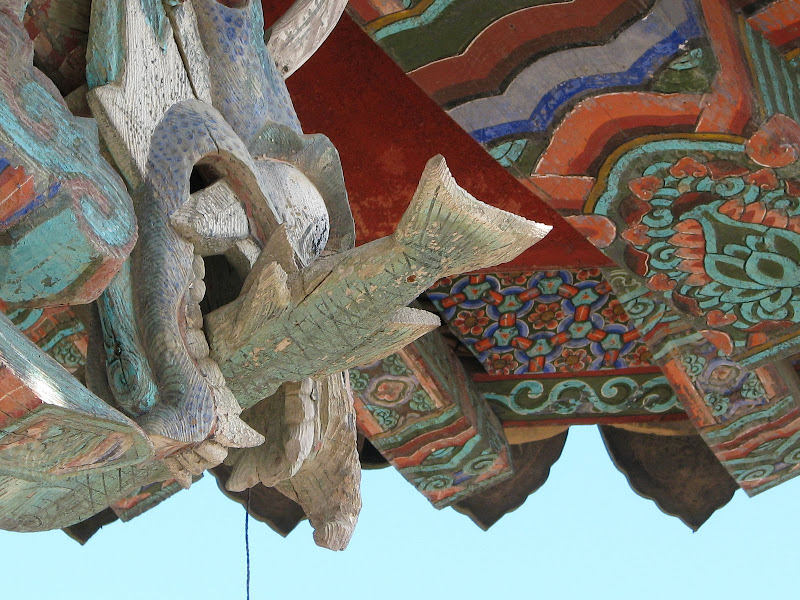 One of the coolest parts of the temple were the awesome dragon figures that adorned the edges of all the buildings--this guy has a fish in his mouth!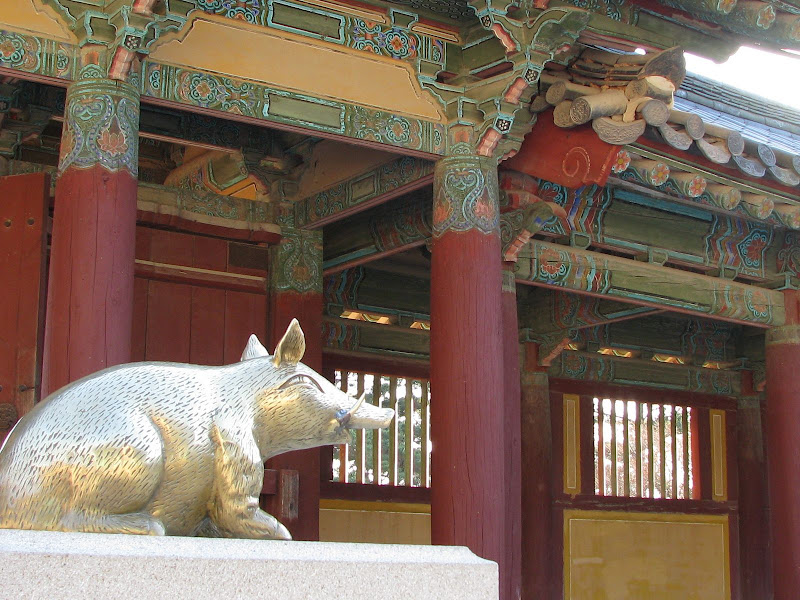 This is for you, Amanda: Look--it's a Golden Pig! Just what we need, right?
Next we headed out to Bomun Lake Resort, which is an area with a lot of touristy hotels and a very pretty lake.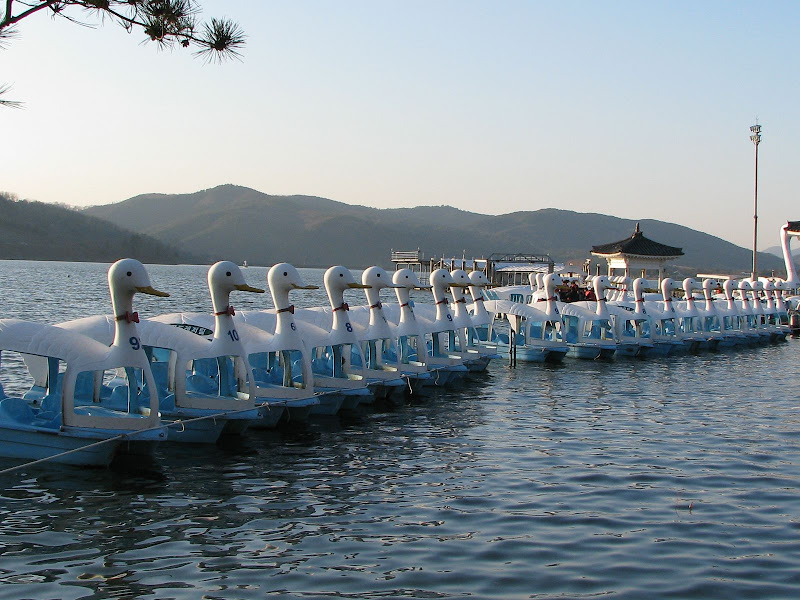 And of course, what would a lake in Korea be without Duck Boats. Lots and lots of Duck Boats.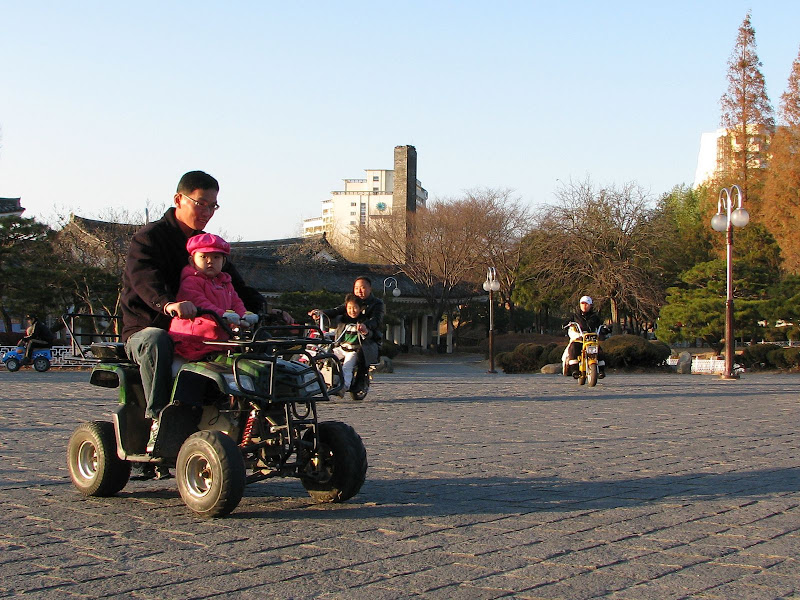 Lots of families rented all kinds of little motorized vehicles and drove them around like crazy people. It was cute
Tree Love. No really... that's what the sign says.
Finally, when the sun was going down, we headed to the Gyeongju Silla museum and looked at lots of cool artifacts from the area (this is one of Korea's big cultural areas, after all). I could have taken more pics in the museum, but unfortunately, I ran out of room on my memory card. Clearly, I need to buy a bigger card. And I need a case for the precious.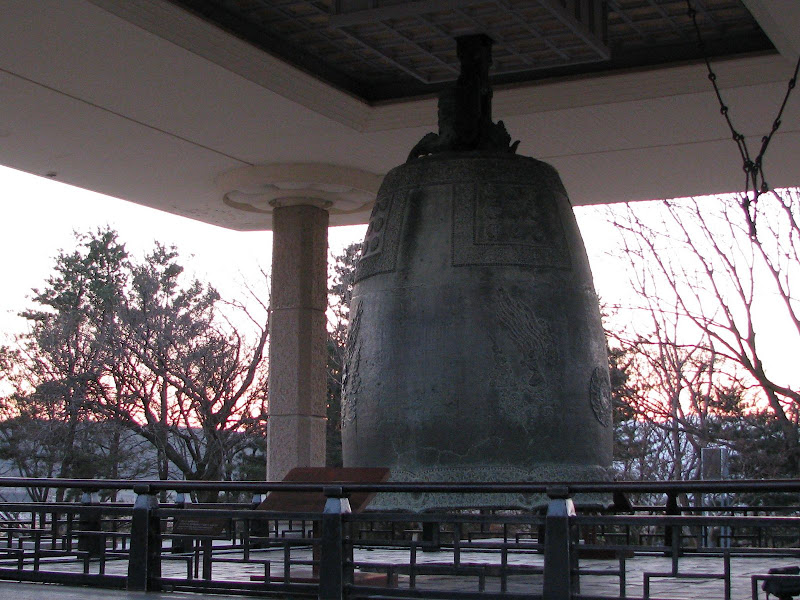 This bell is huge and old and therefore, important.
Seriously, this camera is freaking incredible. Easy to use, brilliant, lightweight and powerful. Anyhow, to see more of my new love's picture taking abilities, check out the full album:
We finished up at a tasty noodle/shabushabu/seafood place near the E-mart in Gaksan (the one near Banyawol). It was exceptional. We ate a ton.
I had a great time with Se Jin and Se Hyun. Of course, I still have a gigantic crush on him. I asked him at some point (in Korean, which I spoke off and on all day) what kind of girls he likes and he blushed bright red and said something about kind girls. I got his e-mail address to send him the pictures from today. Hm...
Now I'm pooped, so it's off to bed with me. Tomorrow is a new week, and a new adventure!