I have had the most bizarre and busy weekends I've ever had in my life, which is impressive because 1) it's only two-thirds over and, 2) Korean weekends are spectacular debacles about which I have already blogged several times.
Friday after class I met up with Rebecca, my friend from Busan who I hung out with the night of the charity event, and we tore up the town, dancing and causing mayhem everywhere we went. It's just in our nature. Anyhow, I didn't end up getting home until the subway opened in the morning and was kept awake for several more hours and it wreaked havoc on my health so my stomach felt really weird, and I missed Korean class for the first time ever.
A couple hours later I did feel better, and since I had made plans with some of the girls for after class, I threw on clothing and dragged myself downtown to go have lunch and see the new John Travolta
Hairspray
(which was awesome). I had lunch at this fantastic Italian restaurant with Kirsty, Laura, and Amanda. Then Laura and Kirsty showed me this amazing bakery/coffee shop that has the most beautiful cakes you have ever seen.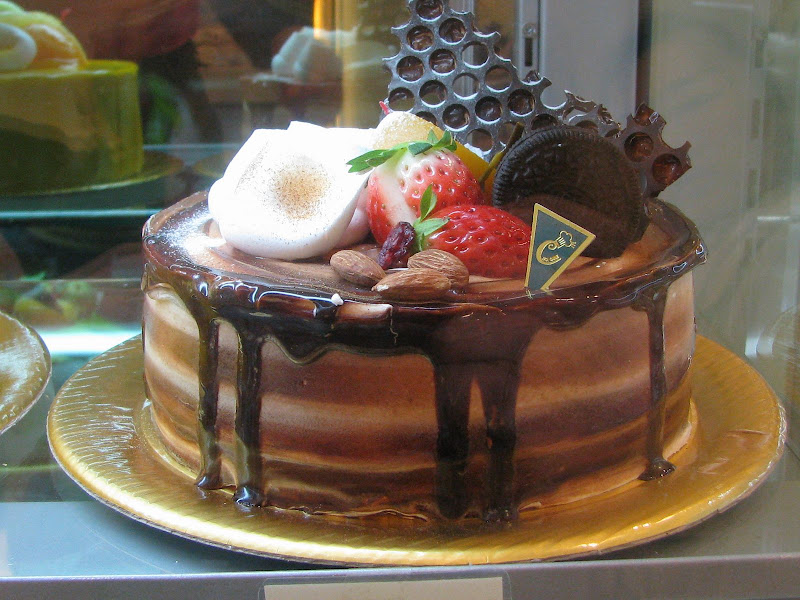 Like this one. Amazing, right?
Kirsty and I split a miniature version of what can only be described as a chocolate orgasmic manna from the gods.
At some point adrenaline kicked in big time because when Yumiko texted me and asked if I wanted to meet up for dinner and to see her friend's concert, Kirsty and I happily accepted. This turned into an awesome girls' night (and of course, this means that three of the guys I've had mild flirtations with are all calling me and texting me at once to see if I wanted to hang out on a night when I had much better and more fun things to do... stupid men) that ended with delicious Vietnamese food and my being even more in love with my camera because the shots I was able to take at this concert were incredible. It was fun because Kirsty, Yumiko, and I were the only foreigners in the place, so the bands kept doing random shout outs to us (it probably helped that Yumiko's boyfriend's brother was dating one of the lead singers, so we met some of the band before the show), but they were good. Lots of American rock covers (including "Back in Black," to my delight).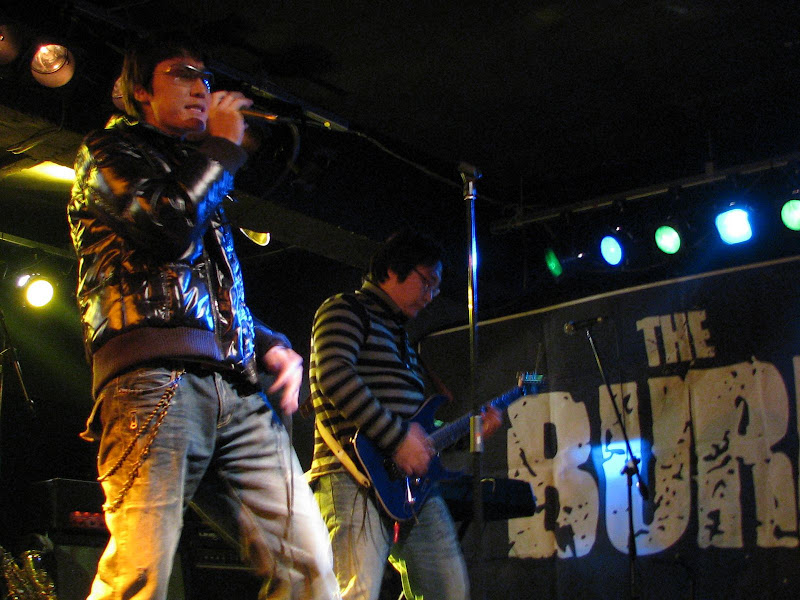 This was the first band. They were pretty good--mostly punk/rock stuff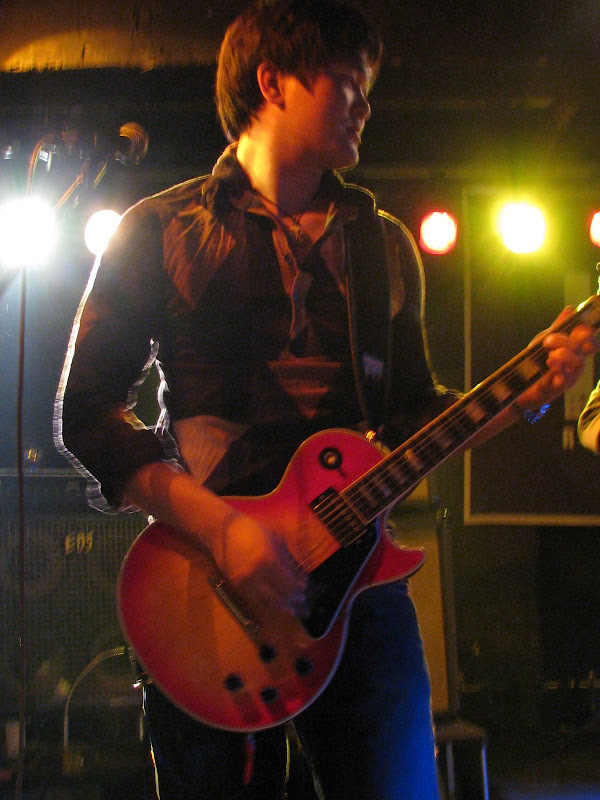 Yumiko's friend's band had a really cute bassist... but I do just have a thing for bassists...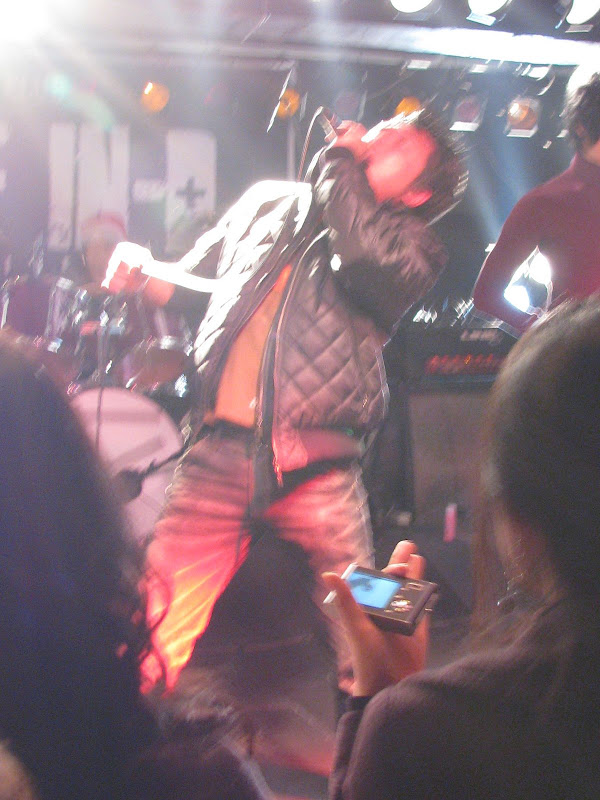 The male lead singer of their band was insane--really. He had the most energy of any adult person I've ever met. He even introduced himself to me as "crazy," to which I replied 나도 (Me, too).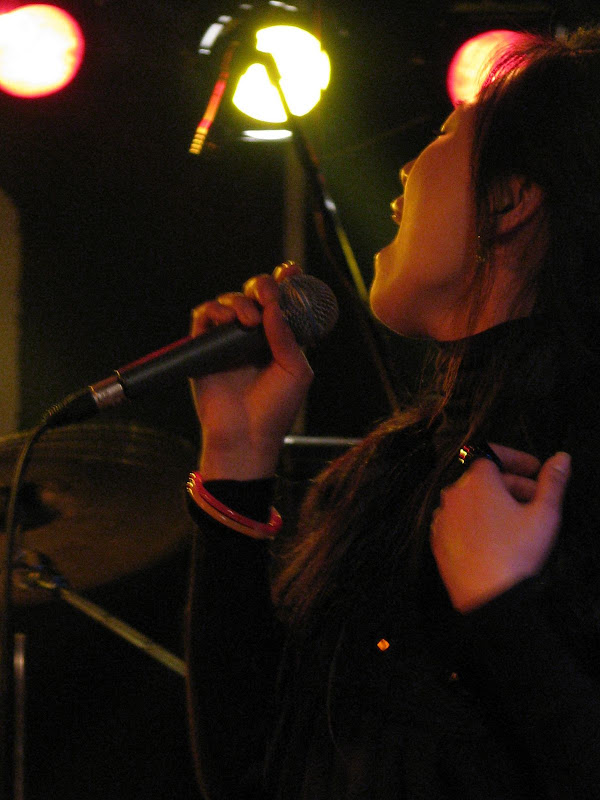 And Yumiko's friend, a lovely person and singer.
After the show and dinner, Kirsty and Yumiko departed with their respective Korean boyfriends (sigh), so I headed out to T-birds. It was quiet, but I met a cool girl Sarah who was celebrating her birthday. We both got buzzed and decided to go dancing at some of the clubs. Good times. Even if my stomach is still having some weird issues.
And then I crashed. I almost fell asleep in the cab home I was so tired. So Palgongsan this morning was not really an option. Plus I need to finish prepping for the book club meeting tonight. So I'm off to do that now.
Check out my amazing camera in the whole album from yesterday's adventures: