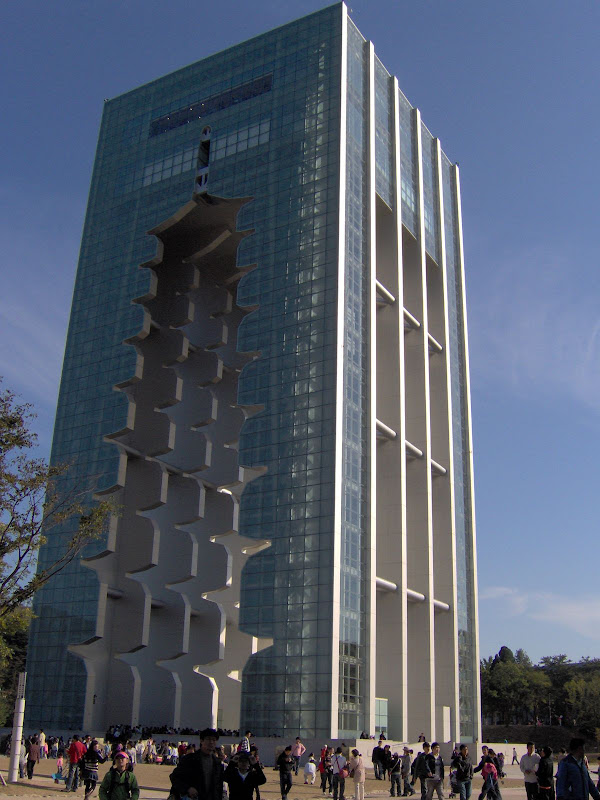 On Sunday, Samantha and I headed out to the Gyeongju World Culture Expo. Originally we planned to go out to Bulguksa temple also, but we were tired from a night of soju-ing and feeling a little lazy. We also seriously underestimated how much there was to see and do at the World Culture Expo and in Gyeongju as a whole. Apparently, we have a knack for ending up at these huge culture festivals in Korea with lots of stuff to see and buy that are rather crowded. I was reading that this particular Culture Expo only happens once every three years and we hit the last weekend of the events (although they are going on until Friday if you're trying to catch them). I feel like we lucked into a pretty cool day, considering how lazy I felt at the start of it!
We hopped an express bus to get out to the city which is about a 50 minute ride from Dongdaegu station. There was supposed to be a tourist info booth next to the bus terminal, but it was closed--eep! Fortunately we met two nice Korean men who directed us to the number 10 bus to get to the expo. The 10 took us to the festival in about 30 minutes, but it was a pretty crazy ride because it was standing room only. I don't mind standing on subways, but buses with their lack of proper shocks can be brutal!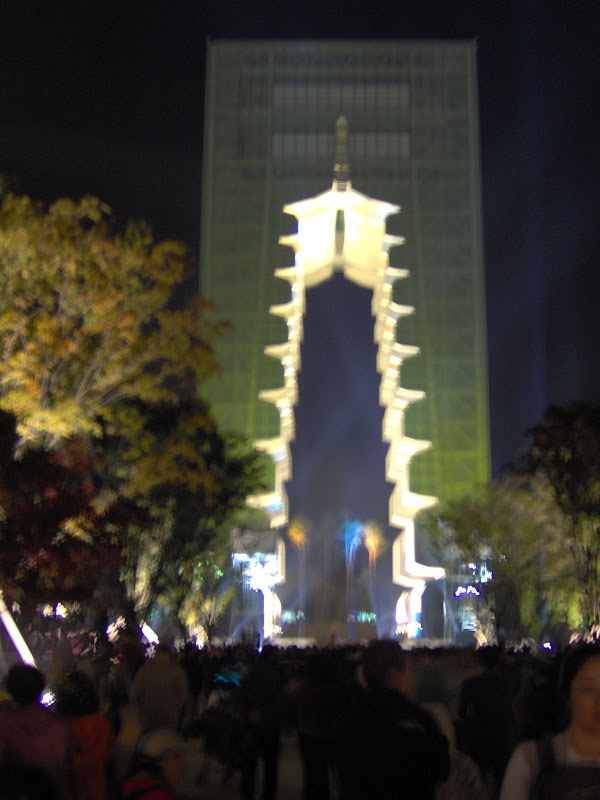 The second Korean man, English name James, happened to be pretty fluent in English because he had backpacked around Europe and travelled extensively. He was headed to the Expo also, so he guided us there and hooked us up with the English programs at the tourist booth at the Expo and everything. He was really nice and wanted to meet up later, which would have been cool, but there were hundreds and hundreds of people there and we never did find him again. Too bad!
The Expo was spread out over a large park that was next to Gyeongju World, a smallish amusement park that looked worth visiting for a roller coaster fix. It's most prominent feature is the Gyeongju tower, that I photographed in both the day and the night. The program noted that we had missed the B-Boy show (darn... I was looking forward to drooling over sexy dancer boys), but we saw there was a sculpture garden near the back of the park and I thought that would have some cool picture opportunities. I was proved correct: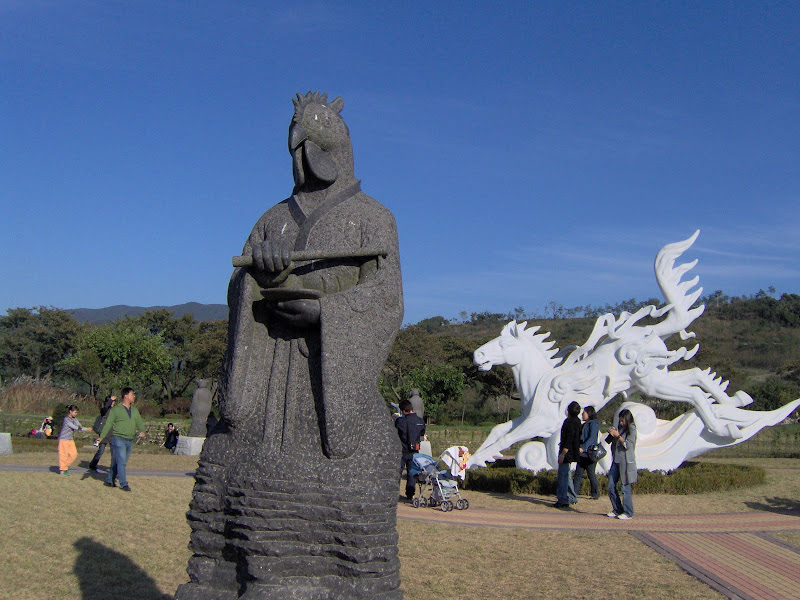 My Chinese zodiac sign, the cock.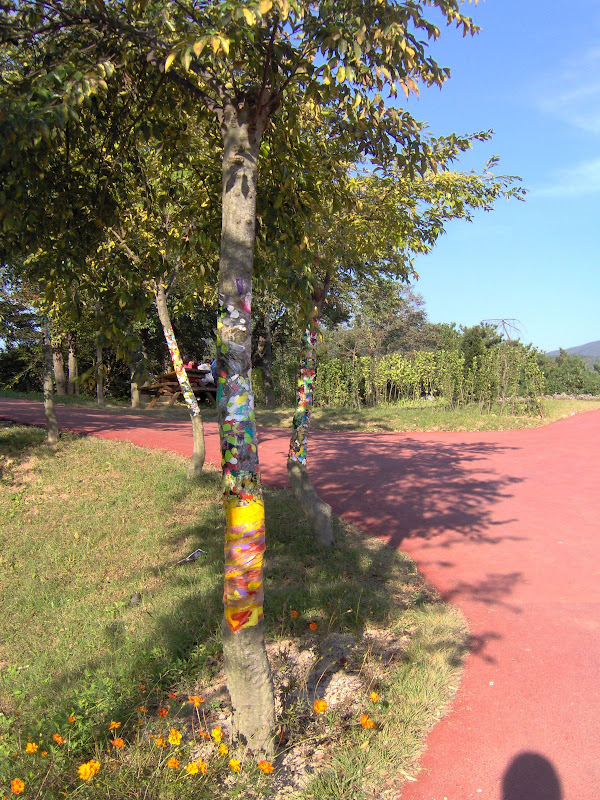 Look, somebody painted these trees! This picture really shows how incredibly gorgeous the day was with the trees in all their autumnal splendor; and happens to be one very rare spot where it was relatively un-crowded.
There were lots of museum-like exhibits in various buildings. We found Diana's version of hell--the "Character Fantasy World." It had lots of cute chibi anime characters, but also thousands of small children running amok among the exhibits, screeching and posing for pictures. If I am a very bad person, that's where I'll end up.
Samantha's version of hell was one of my favorite exhibits--the world puppet exhibition. Given that I used to fantasize about working in the Creature Feature Shop when I grew up and loved constructing puppets, I took lots of pictures of the random displays.
Aren't these puppets awesome? Yes, the naked one has a giant phallus. Aren't you glad I shared?
Finally, we caught a couple shows. First there was the scandalous (for Korea) belly dancers who were quite impressive and colorful: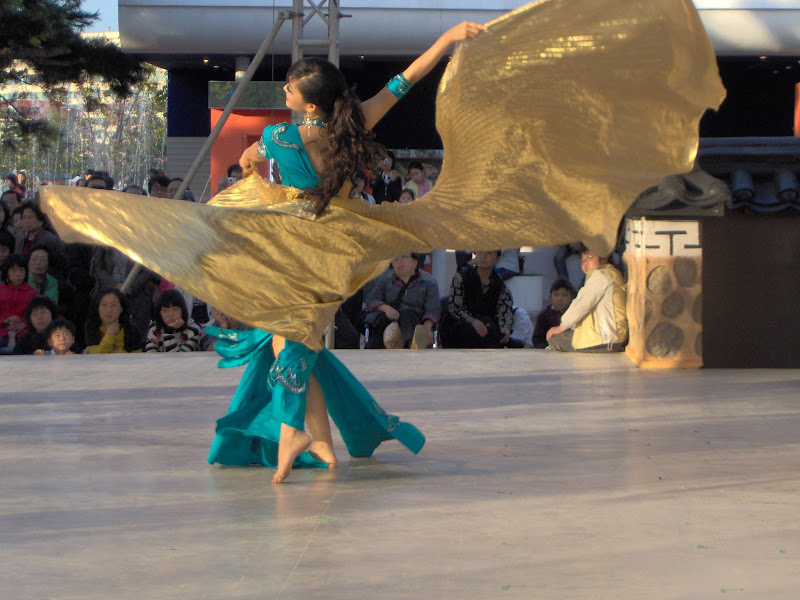 Look at the body position. My lord that's hot. Plus, I'm getting better at capturing action shots, aren't I?
On the main stage, we caught the end of the Malaysian dancer show, but I don't have any pictures of that one because I was the "random token foreigner" pulled from the audience to dance onstage at the end of the show. Samantha took pictures of me looking like a complete dork, so maybe she'll post some on her blog, Here and now. I also got a Malaysian flag for my good sportsmanship. Yay.
The last show of the night was called "The Silk Road" and was this really trippy, acrobatic-heavy show featuring a cultural amalgamation of dance from all over the world. I got to practice action photography at night--spiffy!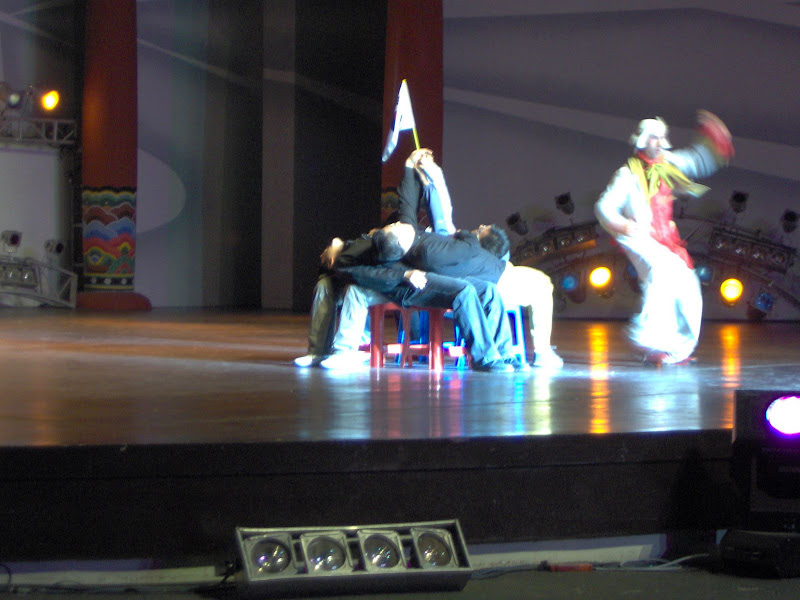 While this was not my favorite photo from the show, I thought it was a cool stunt. The weird guy off to the right pulled four men up on stage and got them to form this human sculpture on the plastic stools that he then pulled out from under them so that they were only supported by their body weight. The men were very good sports. It was pretty neat overall.
I took a lot more pictures that were great, but I figure if you really want to check out my photography skillz (yeah, that's right. With a "z"), you can check out the Picasa album:
It was a fun trip. I even got to eat overpriced but tasty curry from the "international" food tent. We caught a bus back to Daegu and I crashed almost as soon as I got home. It was pretty awesome and Gyeongju is a beautiful city. I am pleased to have an excuse to visit it again to check out the temple. The tourist info calls it the "museum without walls" which seems pretty accurate and thus, of course, a place that my dorky self adores.